Ronald William Tomarelli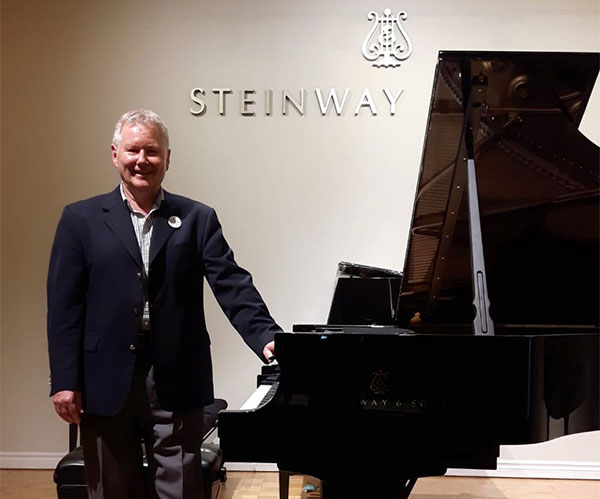 Piano, RCM Exams Preparation
Born in Halifax, Nova Scotia on the east coast of Canada, Ron started piano lessons at the age of 5. Enthusiastic and a quick learner, he quickly became interested in all forms of music and later it was discovered that he knew the notes on the piano without seeing them.
He made his first public appearance on television at the age of 14 and then made a tour of the Province of N.S. at 16 playing in many small communities that up until that time had never heard a solo piano recital!
After graduating from high school in 1967, he continued his studies at the University of Toronto in the Bachelor of Music Degree in Performance.
For 13 years on and off, he studied in New York City, and during the summers in Aspen Colorado with Jeaneane Dowis, the assistant professor of Rosina Lhevinne, herself and husband Joseph Llevinne, founders of the Julliard school of Music in New York. It was in 1980, after having a private audience and audition with John Steinway, he became a Steinway Artist and was added to the Steinway roster of international pianists.
In 1990, Ron became interested in physical posture at the keyboard and embarked on a three-year program to become a teacher of the Alexander Technique. This technique, based on the teachings of Frederick Matthais Alexander, deal with discovering unwanted habits of posture and movement that can impair one's functioning and performance in any walk of life. Ron graduated as a teacher in 1996. It was at this time that he was accepted once again into the University of Toronto; this time, into the Master of Music in Performance degree.
An active teacher for over 50 years, Ron has for over 30 years been adjudicating music festivals and competitions all across Canada and has been an examiner of the Royal Conservatory of Music, examining and auditioning students in both Canada and the United States.
In 2001 he was accepted to teach at Acadia University, one of the oldest in Canada, in his home province of N.S. and remained there until his retirement in 2016.
Ron has played with several Canadian orchestras over the years and collaborated with many singers. He has mentored over 20 students among the other hundreds, who have gone on to successful music careers; some, winning important competitions.
He retired from the university in 2016 and moved back to Toronto where he now lives permanently.