Lynda Metelsky, B.Mus, M. Mus
Piano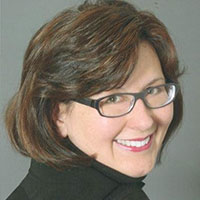 Education
ARCT (The Royal Conservatory)
Bachelor of Music (University of Toronto)
Master of Music (The Hartt School, University of Hartford)
Lynda Metelsky studied with Pierre Souvairan and Luiz Moura Castro and coached with Karl Ulrich Schnabel. Additional studies and performances have taken place at the Mozarteum in Austria, Gunsbach in France, and Gorizia in Italy. For sixteen years, she served as The Royal Conservatory's Keyboard Department Chair (1990-2006).
Lynda's roles also include: coordinator of teaching internship and mentor teacher in The Glenn Gould Professional School Artist Diploma Program in Performance and Pedagogy; member of the University of Toronto's Faculty of Music in piano; clinician in Canada and the United States for The Frederick Harris Music Co., Limited; lecturer; adjudicator; master class teacher; member of the Conservatory's Board of Examiners; contributor to and author of the Conservatory's Celebration Series and New Piano Series; and coauthor of The Piano Odyssey: Student Workbooks. Lynda has been a member of The Royal Conservatory faculty since 1972.
Minimum Age of Student: 7
Professional Designations / Associations: Member of RCM Board of Examiners.
Student Proficiency Level Required: Advanced, Intermediate
Teaching & Professional Experience
Royal Conservatory Keyboard Department Chair for 16 years (1990-2006)
Royal Conservatory Piano Faculty member since 1981
Pedagogy Instructor since 1990
Piano Instructor at the Faculty of Music University of Toronto since 1983
Piano Instructor at International Institute for Young Musicians, Kansas Univ., 2004-2008.
Masterclass teacher for YAPA, RCM CS, U. of Hartford, IIYM, San Francisco Conservatory, WPPC and the Mannheim School Germany
Masterclass coordinator for YAPA 1992-2008
Piano Adjudicator in Canada and U.S. Piano and Pedagogy Examiner and author of pedagogy exams for RCM Examinations